Over the past week, I had the pleasure of cycling on the Waterford Greenway with a group of friends consisting of three lads and three gals. We set off early on Saturday morning after hiring our bikes online the week before with Waterford Greenway Bike Hire. We chose the company because they were the first to appear on Google and more importantly, they offered to drive us back to where we started after we did the cycle (this was a massive swinging factor for us). We got six Giant branded bikes and set off (just after having great coffee from a fabulous new looking cafe called Coach House Coffee- located right next to the bike rental depot).
Each bike came at a cost of €20 (including the price of the free return bus)
The entire Greenway between Waterford and Dungarvan is about 46KM cycle.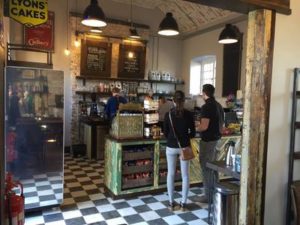 .
We decided to cycle on, what we were told, the more scenic half of the Greenway between Kilmacthomas and Dungarvan (this is about 23km in length). It started greatly. We were not long after setting off when we cycled over the incredible viaduct in Kilmacthomas area. On a sunny day, there would be view sights in Ireland that could surpass what is offered on the Greenway.
Quick Fact:  The Waterford Greenway was set up in the first quarter of 2017 after many years of support from locals. The Greenway itself is an old converted railway line and because of this fact, the Greenway is located in an almost entirely pathway making it safe for children and nervous cyclists.
About halfway between Kilmacthomas and Dungarvan is the dainty but snug and very welcoming pub and shop called O' Mahony's. This old-fashioned pub is a perfect place to grab a pint of something or a soft drink before you set off on the second half of the Greenway – and it is incredible.
The journey from O' Mahony's Pub to Dungarvan allows cyclists to witness and enjoy some of Ireland's most beautiful coastal scenes. Moving along we all got to travel slowly in front of the most beautiful coast.
The lead-in cycle into Dungarvan consists of almost entirely all of coastal views before getting led into the modern and beautiful town of Dungarvan. Dungarvan offers a great selection of restaurants, shops, pubs and hotels. Dungarvan would be a perfect destination for any social weekend.
We arrived outside the depot in Dungarvan where we returned the bikes and were sent back to the Klmacthomas via the free bus supplied by the bike hire company.
In summary of my trip on the Waterford Greenway, I must say that it truly is a fantastic day out and perfect for a group of lads cycling together or a group of couples like me and my friends.
See the video below from Waterford City Council:
Summary
Reviewer
Review Date
Reviewed Item
Cycle The Waterford Greenway
Author Rating