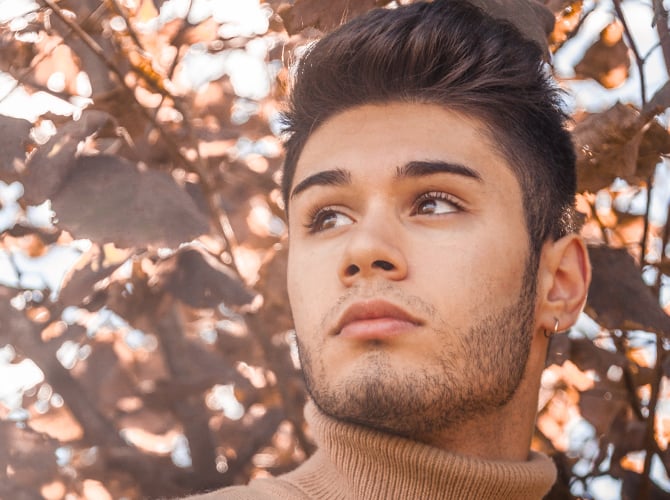 Over the past twenty years – beards have been one of the true staples of Irish men's style. From a Balbo beard, to a triumph beard to just plain simple stubble (my own personal favourite) they have been everywhere. In fact, recent studies have shown that 55% of men in the world have some form of facial hair. It has been celebrity influences such as Tom Hardy, David Beckham or Jason Momoa that has significantly influenced this. Not to mention the fact that it takes a little less looking after than shaving every day.
Click on the link at the end of this sentence to learn more about Irish men's style.
Beards During COVID 19
But in these strange and, let's face it, worrying times for the first time – there has been advice from some governments to greatly reduce or even eliminate beards or any type of facial hair or at least reduce it. Some of the styles advised being avoided due to Cornavirus included full beards, stubble and any type of sideburns.
The problem with facial hair is that it was suggested that beards prevent face masks or respirators from working properly. It had been suggested facial hair stops the requisite contact between skin and masks or respirators.
Source: https://www.msn.com/en-au/news/australia/covid-19-beard-warning-issued-by-us-experts-includes-entire-australian-nation/ar-BB10rQ0Z
The issue being – that the above infographic has been dated back to 2017 and this information was sourced from an outdated approach by the CDC (Centre for Disease Control and Prevention)  and shared on its social media. It is considered to be "not CoronaVirus related".
What makes the current situation pertaining to beards even more confusing is the British Health service's approach. The NHS are requiring all of its frontline staff to completely shave their beards and or facial hair, again ensuring that no person can be exposed to the virus.
Our Opinion on Beards During the COVID 19 pandemic
Without wanting to add to any of the confusion or the spread of "mis-information" about Covid19 we will not say what males should do or not do with their facial hair. If you work on the frontline it is important to do as you are recommended by your health authority. I personally have a very light stubble on my face and until informed with stringent rules from the HSE (Health Service Executive) I will be keeping mine.
See the HSE's guide on COVID19 here
Summary
Article Name
Beards During COVID19 in Ireland
Publisher Name
Publisher Logo